Bluetooth Beanie Hat with Light, Knitted Cap with Headphone
⭐️ Upgraded Bluetooth Beanie: Upgraded Bluetooth wireless technology offer much stable and strong connection, support music and calling, easy and fast to pair with your devices. Maximum transmission distance up to 33 feet. Built-in Stereo Speakers & Mic, enhance your music listening experience.

⭐️ Long Working Time Music Hat: Built with easy-access USB charging port, simply charge it via the included USD cable. It takes 1-2 hours to get full charged. The battery offers continuous working hours up to 10 hours. Perfect for camping, hiking, skiing, hunting, jogging, cycling, dog walking, auto repair, etc.

⭐️ LED Headlight Light Up Your Way: Hands-free LED light is rechargeable and removable. You can remove it to charge by laptop, power bank, socket, car charger, etc. The 4 LED lights can light up to 30 feet away. It points directional light toward what your eyes are looking at. It has 3 brightness settings.

⭐️ One Size Fits Most: Unisex beanie hat is made from the ultra-soft acrylic blend material that provides excellent insulation against cold winter air. Elastic and comfortable LED hat fits men women and teens. It is hand washable, please remove the LED and the headset before washing.

⭐️ Ideal Birthday & Christmas Gifts: Our beanie hat with Bluetooth and LED headlight is the ideal gift for runners and outdoor adventurers in winter. It is also your best gift choice for men women and teenagers. This is the perfect gift for anyone in the family and your friends. Your Ideal choice for Thanksgiving Day, Christmas, Birthday and Anniversary.
⭐️ Why Choose LED Beanie Hat?
Our team and we work together to focus on providing the professional sports accessories and the best shopping experience for our customers. In order to create the most reliable beanie hat with light for our customers, we have been working hard to move towards the goal. Thanks to the whole team's effort now we could available this elastic and soft, warm beanie with USB rechargeable headlamp.

⭐️ This is the most popular winter hat on the market. Our LED beanie does not only helps light up your way at night but also and more importantly ensures you can be seen by others at night. Keep you safe and visible all the time.

⭐️ Soft & Thick Bluetooth Beanie Hat with Light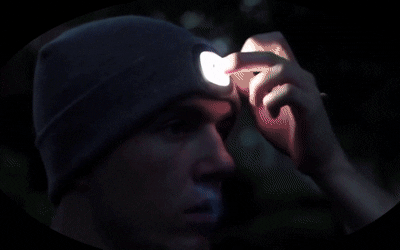 ⭐️ Light Up Your Way
hands-free headlamp beanie is the best solution for those who like outdoor night activities such as fishing, grilling, camping, running, hiking, handyman working, auto repairing, great for being active at night.

⭐️ Beanie with Light - Headlamp Hat
4 Ultra-Bright LEDs
3 Brightness Settings
30 Feet Forward Lighting
USB Rechargeable Headlight
IP54 Waterproof Headlamp
Keep You Warm & Safe

⭐️ Unique design for outdoor activities & keep you safe at night - Popular outdoor LED beanie hat. Thick knitted winter beanie will keep you warm when throughout the cold winter.
⭐️ BEST GIFT CHOICE: Best gift choice for Thanksgiving Day, Christmas, Birthday and other special occasion. It is a gift suitable for family, friends, colleagues, lovers, and the most ideal gift choice.

⭐️ COMFORTABLE & STYLISH: Unisex design, adult and teens size to keep anyone's head and ears warm. The beanie hat is casual and stylish, easily matches different dressing.

⭐️ If you need to wash it, please pop out the LED light first, then back into the hole vertically and wash it by hand, after you dry the hat, you can put the LED light back into your hat.
⭐️ Bluetooth Beanie Hats are packed in a box, with double layers materials and One Size Fits Most. The 2 in 1 LED & Bluetooth combination features the most convenience on your life. Great gift choice for men, women, Dad, boys and girls.

⭐️ Larger battery volume with longest playback time for outdoor activities.

⭐️ The superior and upgraded Bluetooth chip will provide the most stable Bluetooth connection comparing to old version. It takes about 1-2 hours to charge fully and lasts 10-12 hours working time. Make your life easy and comfortable.

⭐️ We have increased the battery capacity to 200mAh and revised the lighting chip to extend the working time for the highest brightness. Some LED beanie or the bluetooth LED beanie from other brands on the market can only last for half an hour for the highest brightness as many customers complained on the negative reviews. Our LED Beanie can last for at least 3 hours for highest level, 4 hours for Medium Level and 8 hours for lowest level.
⭐️ The audio quality still is great and delivers a crystal-clear stereo sound experience even you are working outside with no buzz

⭐️ Unique design at the brim of the hat

⭐️ The wiring will goes out from the brim of the hat and make them crazy when wearing the LED hat, our products improved this issue by adding one stitch on the brim and make the wiring hide inside. A little change but make your life easier.

⭐️ The LED & Bluetooth device can be easily pulled out from hat and Turn over the beanie, you will find a reserved hole in beanie to remove the Bluetooth headphones to wash it. Easy to take it out and put it in. Never worry about the beanie become dirty.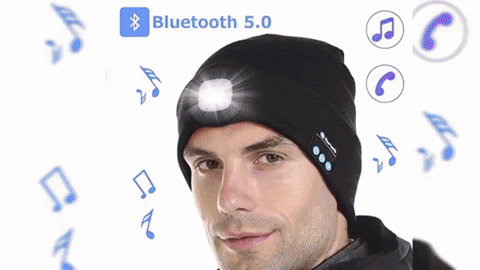 ⭐️ Our winter hats have double layers & thicker knitting to protect you from cold in winter. Incredibly warm and windproof enough for kids and adults. Enough for your head in cold winter.

⭐️ Ideal for Dog Walking, Jogging, Biking, Camping, Hunting, Fishing, Hiking, Handyman Working. etc.

⭐️ 12 MONTHS WARRANTY - If you buy directly from us, you can enjoy quality after-sales service, if there have any concerns please do not hesitate to contact us.
⭐️ HIGH DEMAND: Posted within 24 hours. Most orders arrive in 5-9 business days
⭐️ OUR GUARANTEE
We truly believe in the production of one of the most innovative products in the world, and we want to make sure we support it with our satisfaction guarantee.
If you do not have a positive experience with our products, we will do absolutely everything to ensure your satisfaction and a positive experience with us, including a full refund without questions.
⭐️ Available Now. We Ship Worldwide